Amaze, a powerful, no-code eCommerce platform, today released Amaze Free, which includes all the power of Amaze within a limited feature set. Amaze Free allows merchants, influencers, designers and other creatives to interact with the Amaze platform before committing to a subscription or adding in credit card information.
If you'd like to create your own Amaze Free account, you can sign up here.
How it Works
When you  sign up for an Amaze account, you will automatically receive a free, 15-day trial of Amaze Pro. During your trial, you will have full access to Amaze Pro, including unlimited projects, ad-free designs, google analytics, and more.
Once the 15-day trial ends, you will have the option to keep Amaze Pro by selecting a monthly or yearly subscription. If you are not ready to subscribe, your account will downgrade to Amaze Free, where you can continue using a limited feature set to create and publish Amaze projects.
Every published project created during your trial will remain live without splash pages or watermarks. However, if you edit a published project after your account downgrades to Amaze Free, then a short splash page will be added to the beginning of your design.  
What's the Difference?
Amaze Free allows users to interact with the software, view available templates, edit designs, and publish a limited number of projects and media storage. Users who aren't ready to upgrade to Amaze Pro once their 15-day trial ends can continue using the free version of Amaze to create and publish projects.  
You can check out the full capabilities of Amaze Free and Amaze Pro below.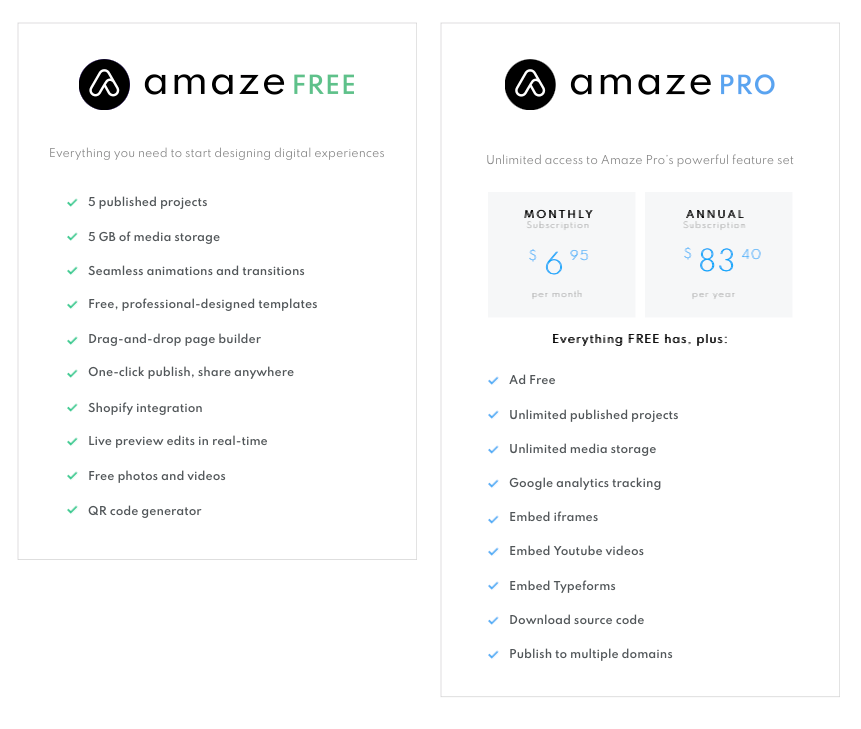 What Can You Create With Amaze?
Amaze lets you create a variety of digital experiences. The most popular ways Amaze is used include, but are not limited to, mobile selling pages, advertisement/jump pages, link in bio/social content, and dynamic presentations.
Mobile selling pages:
Mobile selling pages help you showcase product promotions, product launches, discounted services, new releases, etc., and allows you to create a personalized shopping experience. Place the products or services that appeal most to your customers on selling pages to drive sales and engagement. Selling pages are shoppable content that can link directly to your Shopify or BigCommerce carts.
Ad/jump pages:
Amaze's ad/jump pages grab your customers' attention and interest and motivate them to click on the ad. Once selected, ad/jump pages redirect visitors to a personalized mobile selling page or another eCommerce experience. These pages can easily be displayed on your website, email campaigns, social media posts, SEM ad campaigns, etc., and can significantly increase engagement and sales without much cost or effort.
Link in bio:
A link in bio page allows you to house a collection of various links that help drive traffic from your profile page to other social media accounts, selling pages, or websites. Amaze's link in bio pages offers unlimited customizations that allow influencers, merchants, creatives, and other users to create engaging designs that reflect their brand or attitude.
Dynamic presentations:
Dynamic presentations allow you to present information in a highly visual way that is consistent with your branding. Dynamic presentations move away from text-heavy slides and provide graphics, animations, videos, pops of color, etc., that engage your audience and make your information memorable.
Ready to Try Amaze?
Amaze can transform your marketing efforts with minimal effort on your end. The platform is easy to use and includes hundreds of professionally designed templates, allowing you to create and publish projects in a matter of minutes.
Sign up for a free, 15-day trial below to experience the full power of Amaze Pro.